The world of golf was introduced to me when I started dating my sweetheart. I knew about things like birdies, bogies, hole-in-ones, and sand traps. I knew nothing about irons, draws, or how funny it is to imagine four grown men looking for golf balls.
I'm sorry but it puts me into absolute hysteric fits of giggles thinking about adult men traipsing around in the grass stomping and searching for golf balls like toddlers on an Easter egg hunt.
Two years ago, I went to my first tournament, Bridgestone at Firestone. If that's not enough to confuse a girl, alone. Too many stones. I loved it! It was fun to see the players, see the golf at various stages, from teeing off, to fairway, to green. (I hope I said all of those right!) It was unsuspectingly exciting when a shot went awry and landed near you. These golfers don't have to go searching where their shots landed, but I don't envy the whole everyone's watching thing.
One of the best parts was kind of picking a guy to follow around. It wouldn't have done me any good to follow around a big name and in turn, a big crowd. We landed on Martin Kaymer. He's German, sponsored by Rolex and easy on the eyes. He also had a really cute lion driver cover. It's the little things. Martin will be there again this weekend and just in case everyone's caught on to how suave he is, I've put together a top five golfers to watch at Bridgestone list with four other gaze-worthy candidates.
5.  Jason Day- While I would be more inclined to put him on the "cute" list rather than hot, he still gets an A in my book. Yes, he's an Aussie. Hey, Mate!
4. Matteo Manassero- He's Italian and a BABY. He's the same age as my sister at 21 whole years. His nickname is "Manny" and I will most certainly be cheering for him!
3. Luke Donald- The eldest on my list at 35 is right on the brink of, "is he hot or handsome now?" He's English and has a really cute pout when he swings. Nothing like a man in argyle.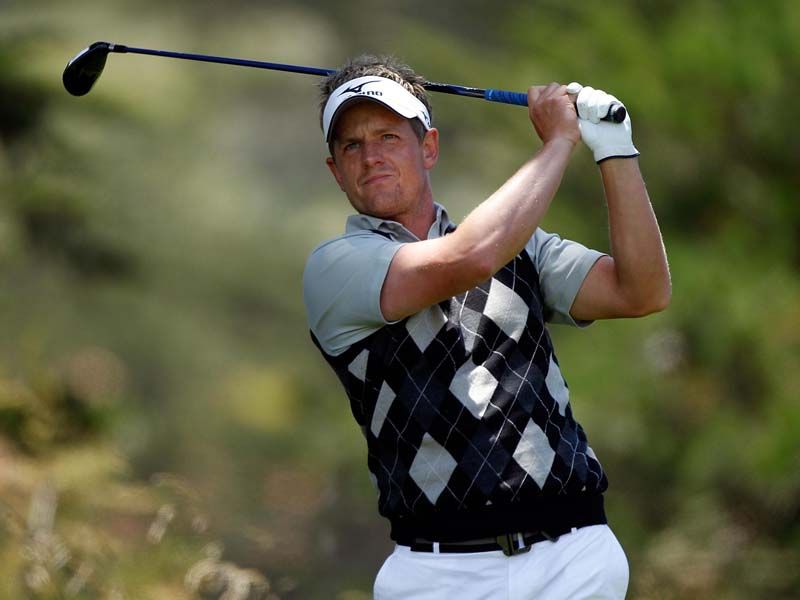 2. Adam Scott- Yes, another Aussie. He won me over with his victory thrust at the Masters. He might be the only guy who can pull off that green jacket. See you soon, Scotty!
1. As mentioned before, Martin Kaymer. He stole my heart at Firestone two years ago and even made it to "computer background" status. That is no easy feat. Boyface likes him too, that doesn't hurt either! He's German & and rumor has it he's single now ladies…